Lowton Aerials like many other independant installers were once accredited Sky Installers. Sky's launch of the HD platform several years ago prompted a massive demand that Sky wern't able to cope with internally. So they devised the 'Buddy' scheme where indepandant installers sold and installed Sky packages. Since demand for new HD installs has quietened down then Sky no longer need the extra installation capacity, so now if you want a Sky install you have to deal directly with Sky.
We are often called out to fit dishes on chimneys, etc as Sky installers cannot work over a certain height. If Sky have refused you a package because their engineer has said there is no signal, then give us a try we can mount dishes in all kinds of locations to obtain signals. We can also position dishes for discrete installations where regulations prevail.
Have you got problems with your Sky system including Sky Q. Call Sky and get them to check your system over the air. If you need a service call and your equipment is out of warranty, call us! Sky charge £65 for a service call and it usually takes approx 2 weeks for the engineer to call. Lowton Aerials charge £25 for a service call and we can get to you usually within 24 hours!
Our Sky dish installations include Zone 1 or 2 dishes, quad LNB's, octo LNB's, Sky Q Wideband and Hybrid LNB's
All passive equipment and installations by Lowton Aerials are covered by our written 5 year guarantee. All active (powered) equipment is covered by the manufacturers warranty, usually 12 months.
See our Freesat page for installation prices of standard Zone 1 Sky dishes and upgrades.
Lowton Aerials can install extra phone points for multiroom for £30/room.
We can incorporate your new Sky box into your home distribution system, see our section on home distribution. Going multiroom? then Lowton Aerials can supply a chained or split distribution system, allowing you to make the most of your Sky viewing throughout your home and family.
Subject to stock Lowton Aerials can offer second user Sky+ and HD boxes for upgrades at attractive prices. Phone for details/current offers.
Call us today for a no obligation free quotation.
Tel 07707 252 250
For your peace of mind we have £5,000,000 Public Liability Insurance.
The Bad and the Ugly!
Following high winds Lowton Aerials received a service call from one of our customers who's new Sky+HD package had lost signal after just being installed for only 3 weeks!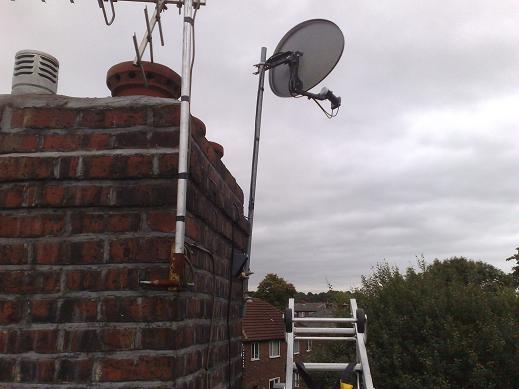 The dish pictured above may look unsightly but the original contractor (a subbie) had his reason for mounting the dish above the chimney. Just off picture to the right is a very tall tree, the chimney is therefore the only possible mounting point, but still the dish needs be elevated to gain a good line of sight.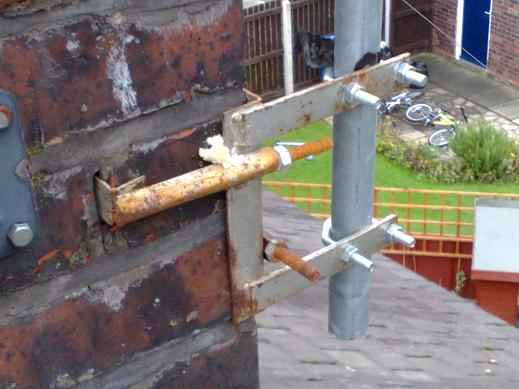 On initial inspection from the ground, it seemed that the mast had been kinked by the wind adjusting the elevation angle of the dish and thus losing signal. However once we got up on the roof it soon became obvious what the problem was. The subcontractor had used a 'knock in' bracket that is totally unsuitable. You can see in the above picture where the wind force had twisted the 'knock in' bracket out from the wall. Although the chimney brickwork was sound we wouldn't expect it to stay this way for long if this bracket was left in place.
We always inspect roof area's for damage before we have set foot on them, the following 2 pictures show the roof damage that the subcontractor had caused. When I asked the customer, he confirmed the subcontractor didn't even use a Cat ladder!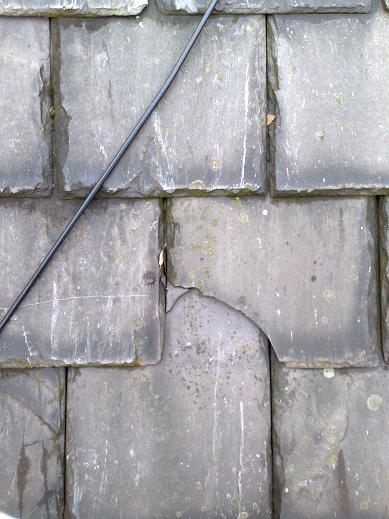 If we find existing damage we always take photo's and show them to the customer prior to starting the work. If we find gutter or roof damage or even wasps nest, we take pictures to advise the customer of any problems.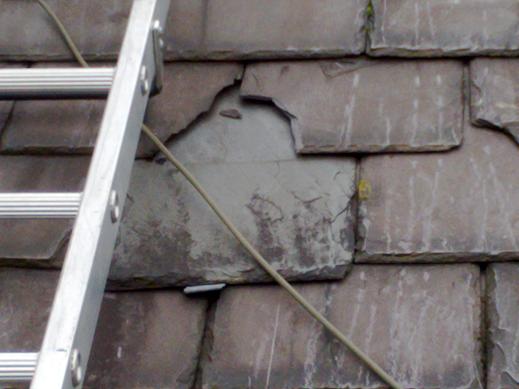 I informed the customer that he should complain to Sky about the poor installation and roof damage. Make no mistake Sky will not put up with shoddy installation work, the fact that the subcontractor went up on the roof without even a Cat ladder (let alone a safety harness!) would have been enough for instant dismissal!
Lowton Aerials installing Sky tv throughout the North West including Collins Green Hindley Burtonwood Astley Wargrave Westleigh Worsley Abram Bamber Bridge Eccles Pennington Skelmersdale Westhoughton Shevington Alderley Edge Platt Bridge Failsworth Atherton Bamfurlong Bury Clock Face Croft Daresbury Earlestown Farnworth Garswood Ashton-in-Makerfield Glazebury Bickershaw Great Sankey Wigan Bolton Haydock Horwich Ince-in-Makerfield Newton-le-Willows Pemberton Rainford Belmont Culcheth Scholes Standish Thatto Heath Bryn Tyldesley Billinge Warrington Golborne Irlam Padgate Kearsley Altrincham Stubshaw Cross Kenyon Leigh Little Hulton Little Lever Apperley Bridge Blackrod Lowton Crankwood Lymm Rainhill