Lowton Aerials specialise in tv mounting and hidden cable systems. We can fix to virtually any wall surface even studded walls. There are circumstances that make wall mounting impossible we would advise you of this at time of estimate.
Call us today for a no obligation free quotation.
Tel 07707 252 250
TV Wall mounting Service. All prices include wall bracket, fixings and installation.
Flat Wall Mounts

LCD/Plasma Flat Bracket
Upto 23" TV £40 Fitted
Upto 40" TV £65 Fitted
Upto 62" TV £70 Fitted
Tilting Wall Mounts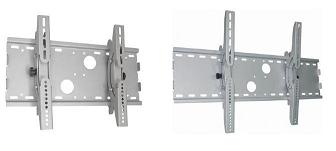 LCD/Plasma Tilt Bracket
Upto 23" TV £45 Fitted
26" to 40" TV £70 Fitted
42" to 65" TV £75 Fitted
Tilt and Swivel Wall Mounts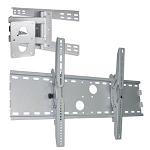 LCD/Plasma Tilt & Swivel Bracket
Upto 23" TV £60 Fitted
26" to 32" TV £90 Fitted
37" to 42" TV £120 Fitted
42" to 65" TV £130 Fitted
All prices include fitting but do not include cable management. Due to customer requirements and layout of tv and receiving equipment we will need to visit site to properly identify your requirements and provide a price. We offer simple cable management using plastic trunking through to totally hidden cabling systems (see example on right and below).
A new Samsung LED TV mounted on special Samsung Wall Mount.
(LED TV's are super slim, the special wall mount on this one, means careful planning of cabling. The TV is almost touching the wall!)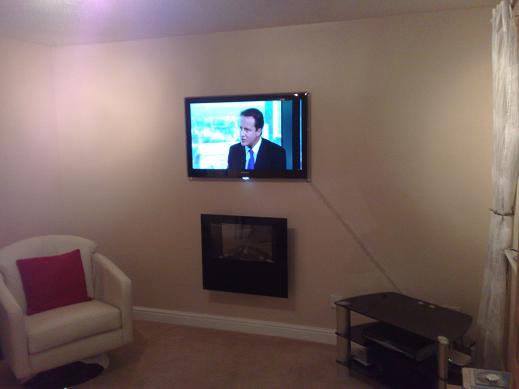 The power supply on this installation was taken from the fused spur that can be seen just behind the top left corner of the old tv stand. Three HDMI cables and coax for rf freeview were installed and the cable outlet is shown below.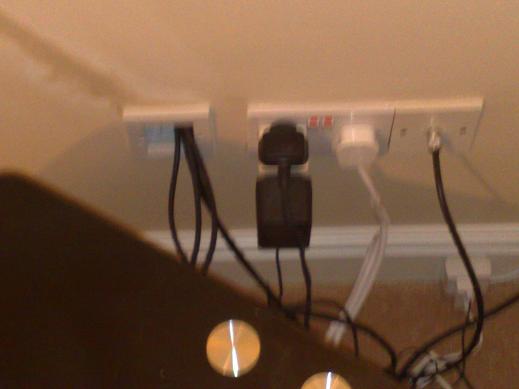 We can supply quality Scart and HDMI cables for your installation at a fraction of the cost of shop prices. We only use 'distribution specification' coax cable throughout all our installations. We also do Cat5 networking and HDMI home distribution.
All passive equipment and installations by Lowton Aerials are covered by our written 5 year guarantee. All active (powered) equipment is covered by the manufacturers warranty, usually 12 months.
Call us today for a no obligation free quotation.
Tel 07707 252 250
Hidden Wires
This is Jean's new 37" LCD TV (Thankyou Jean from Lowton for allowing these pictures to be published)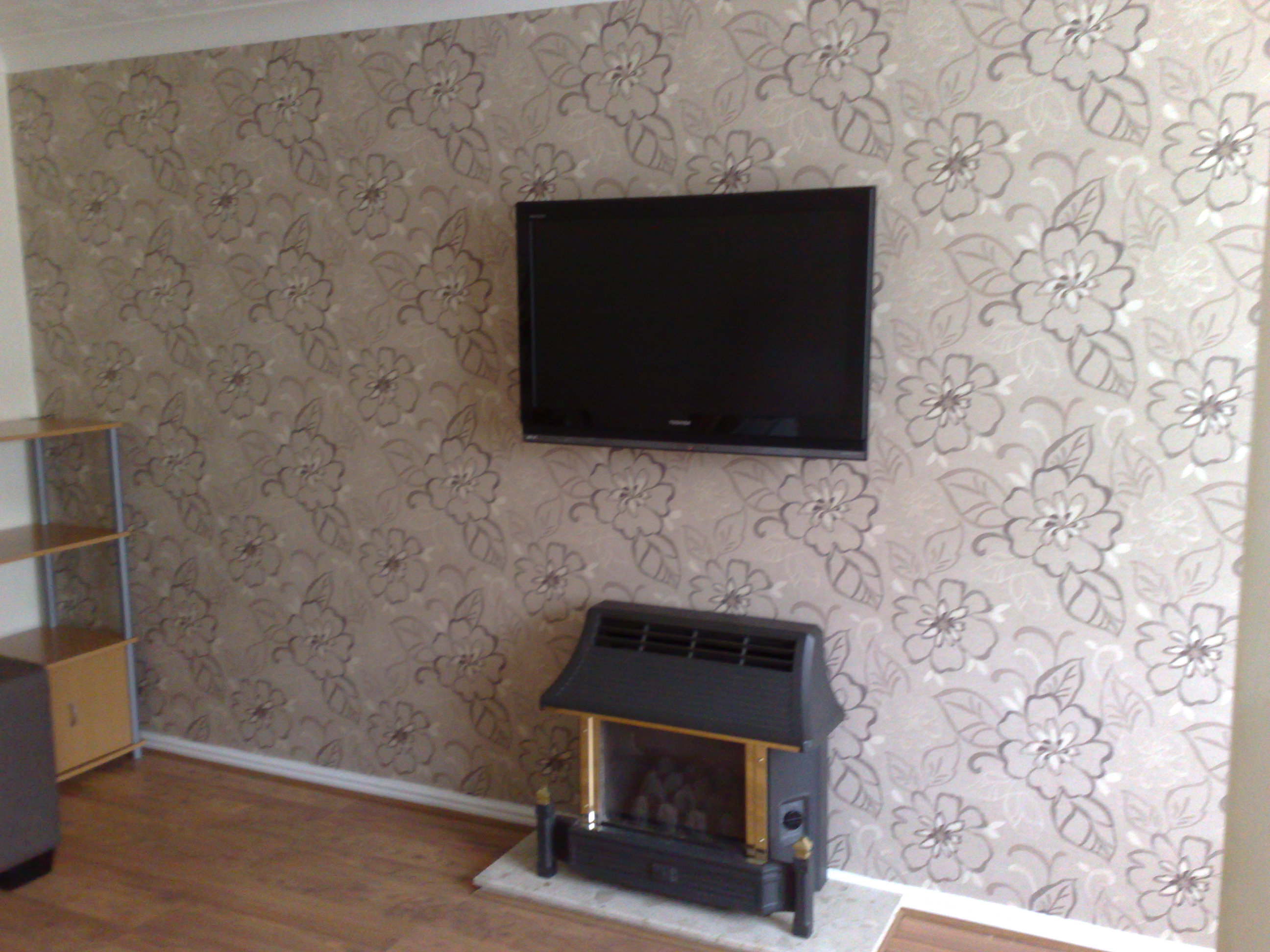 Jean had purchased a new LCD and wall bracket from a well known electrical superstore. To mount the TV for her the store were asking £120 and this didn't include any cable management system! This is when Jean called us at Lowton Aerials. The TV was fitted for £30 and at this point we took the opportunity to explain what we could offer in terms of cable management and upgrading her home tv distribution system. We fitted 2 x 5m HDMI and 2 x scart cables and an rf cable for freeview behind the wall surface.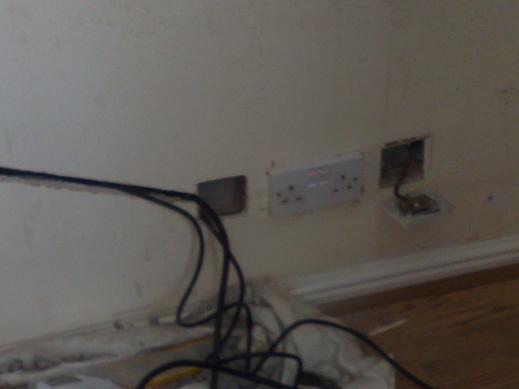 A new Log Periodic Aerial was installed, the existing aerial cable (on right of above picture) was removed and the hole plastered up. The new aerial feed along with the Sky+ feeds and the distribution return system entered at the back of the new outlet plate (on the left in the above picture).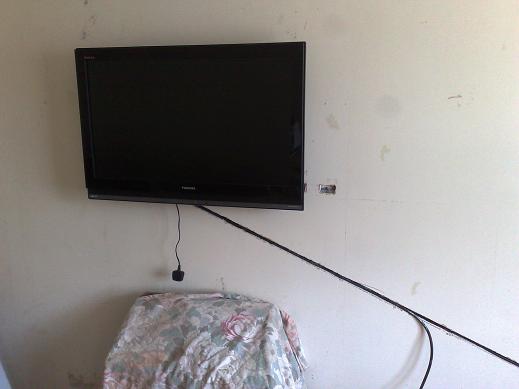 In this case the wall had to be chased out to facilitate laying cables. All wall damage is always made good again by Lowton Aerials. Once all completed this is what it looks like.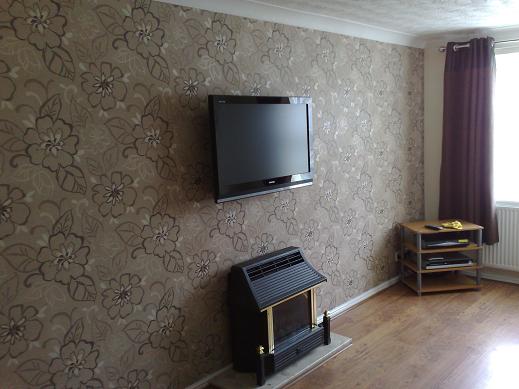 Here's a close up of the cable feeds to Sky+ HD and DVD player (we also have a spare Scart and HDMI cable ready to connect to additional viewing sources in the future).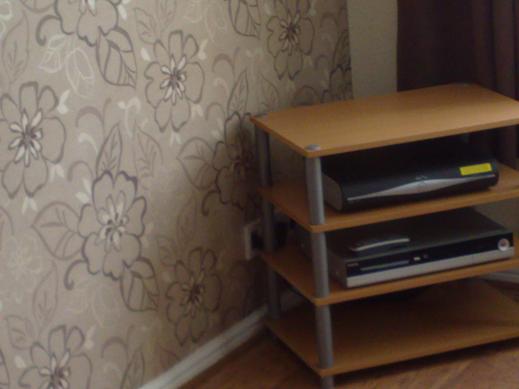 Sky is also disributed to all other Tv's in the house (via loft mounted distribution amplifier) and in the masterbedroom it is possible to fully control Sky. In addition every TV in the house receives a good quality digital signal for Freeview.