Aerials supplied are expertly selected from our range of CAI benchmarked aerials to suit your circumstances and local environment.
All our aerials are fixed to heavy duty alloy masts and mounted using heavy duty wall or chimney galvanised steel brackets. We do not use painted brackets as they tend to rust very quickly and look unsightly. Neither do we use knock in Chimney Brackets as they damage brickwork on the chimney.
Aerial Price List
Lowton Aerials are willing to offer fixed prices for Aerial Installation in Lowton. Simply contact us for latest fixed prices. We are able offer fixed prices based on local area knowledge (signal strength and quality). Our fixed prices are based upon the supply of a Fracarro Log Periodic 'Digital quality' aerial, heavy duty galvanised bracketry and fixings (wall or chimney), Alloy mast 6' x 1.25"dia, CT100 'Distribution quality' coax cable and high quality connectors.
If you have an existing aerial its usually possible for us to split this to other rooms. We would need test your existing aerial to assess suitability.
Call us today for a no obligation free quotation.
Tel 07707 252 250
Lowton Aerials specialise in working in weak or problem signal area's, we can obtain a good quality digital signal when others have failed. We can install custom setups with masts upto 20' tall, or discrete installations where regulations prevail.
We also supply a range of amplification solutions to supply a good signal to as many TV sets as you require.
Our home distribution systems (see seperate section) can incorporate all your input viewing sources, to share and control from all the TV points throughout your home.
For your peace of mind we have £5,000,000 Public Liability Insurance.
We can supply quality Scart and HDMI cables for your installation at a fraction of the cost of shop prices. We only use 'distribution specification' coax cable throughout all our installations. We also do Cat5/6 networking and HDMI home distribution.
All passive equipment and installations by Lowton Aerials are covered by our written 5 year guarantee. All active (powered) equipment is covered by the manufacturers warranty, usually 12 months.
Lowton Aerials installing Freeview tv throughout the North West including Shevington Alderley Edge Platt Bridge Failsworth Atherton Bamfurlong Bury Clock Face Croft Daresbury Earlestown Farnworth Garswood Ashton-in-Makerfield Glazebury Bickershaw Great Sankey Wigan Bolton Haydock Horwich Ince-in-Makerfield Irlam Kearsley Altrincham Stubshaw Cross Kenyon Leigh Little Hulton Little Lever Apperley Bridge Blackrod Lowton Crankwood Lymm Newton-le-Willows Padgate Pemberton Rainford Belmont Rainhill Culcheth Scholes Standish Thatto Heath Bryn Tyldesley Billinge Warrington Golborne Collins Green Hindley Burtonwood Astley Wargrave Westleigh Worsley Abram Bamber Bridge Eccles Pennington Skelmersdale Westhoughton
Here's a Knock in Painted Chimney Bracket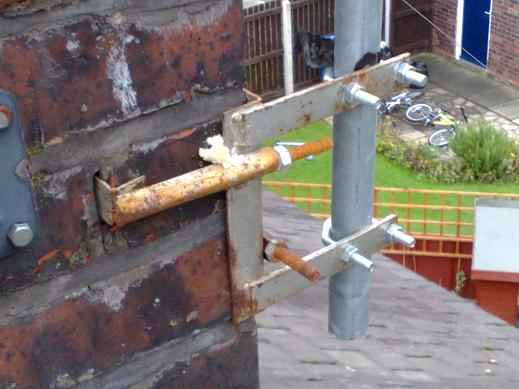 And here's why Lowton Aerials don't use them:
The above bracket was installed by a Sky contractor (see Sky Section for the story). This bracket and Sky+HD had been installed just 3 weeks when Lowton Aerials received a service callout. As you can see in the picture the bracket has already after just 3 weeks started to turn rusty. You can see where the bracket is 'knocked in' to the brickwork and the screw thread then pulls the backet back toward the brick. The same principle applies on the other chimney face resulting in the bracket constantly pulling at the brickwork. The chimney above was in good condition and the bracket hadn't loosened the bricks (It had only been fitted for 3 weeks). Many chimneys though have perished mortar and the bricks 'fall away' when old brackets are removed.
Lowton Aerials care about your property and use only galvanised bracketry and galvanised lashing wire when securing to chimneys. Others use 'knock in' brackets to cut costs, they cost far less and take a fraction of the time to fit compared to a properly lashed bracket.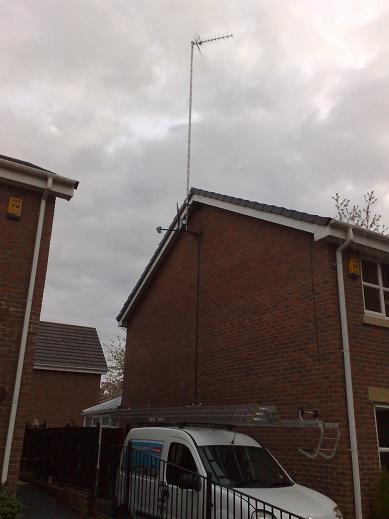 The above job was a refit. The customer had been charged nearly £400 for an aerial on a 20' mast, split to 2 rooms and for resiting his sky minidish. The aerial didn't work properly, the signal was weak due to a large building being in line of sight and the sky box kept losing signal as the dish wern't aligned accurately. Lowton Aerials where called in, we refit the mast so the coax didn't keep the owners awake at night rattling on the mast, we redid the aerial feed system and obtained quality signals to all TV's. We fitted a new dish and Octo Lnb, a Freesat HD system and HMDI ditribution so the customer can watch football in HD on either ground floor TV's. The customer is now very happy, he has perfect pictures all round on freeview, freesat HD, sky+ and sky HD.
Latest News!
High Definition channels are now available on Freeview. You will need a DVB-T2 compliant TV or Set Top Box with HD ready TV to view Freeview HD. You can rest assured that all our aerials and systems are compliant with HD digital broadcasting on Freeview.
Call us today for a no obligation free quotation.
Tel 07707 252 250
Lowton Aerials installing Freeview tv throughout the North West including Shevington Alderley Edge Platt Bridge Failsworth Atherton Bamfurlong Bury Clock Face Croft Daresbury Earlestown Farnworth Garswood Ashton-in-Makerfield Glazebury Bickershaw Great Sankey Wigan Bolton Haydock Horwich Ince-in-Makerfield Irlam Kearsley Altrincham Stubshaw Cross Kenyon Leigh Little Hulton Little Lever Apperley Bridge Blackrod Lowton Crankwood Lymm Newton-le-Willows Padgate Pemberton Rainford Belmont Rainhill Culcheth Scholes Standish Thatto Heath Bryn Tyldesley Billinge Warrington Golborne Collins Green Hindley Burtonwood Astley Wargrave Westleigh Worsley Abram Bamber Bridge Eccles Pennington Skelmersdale Westhoughton